Art Exhibition In Lovely Benahavís
Trust the universe and something amazing will happen!
That I have really started to realize, the past months. ❤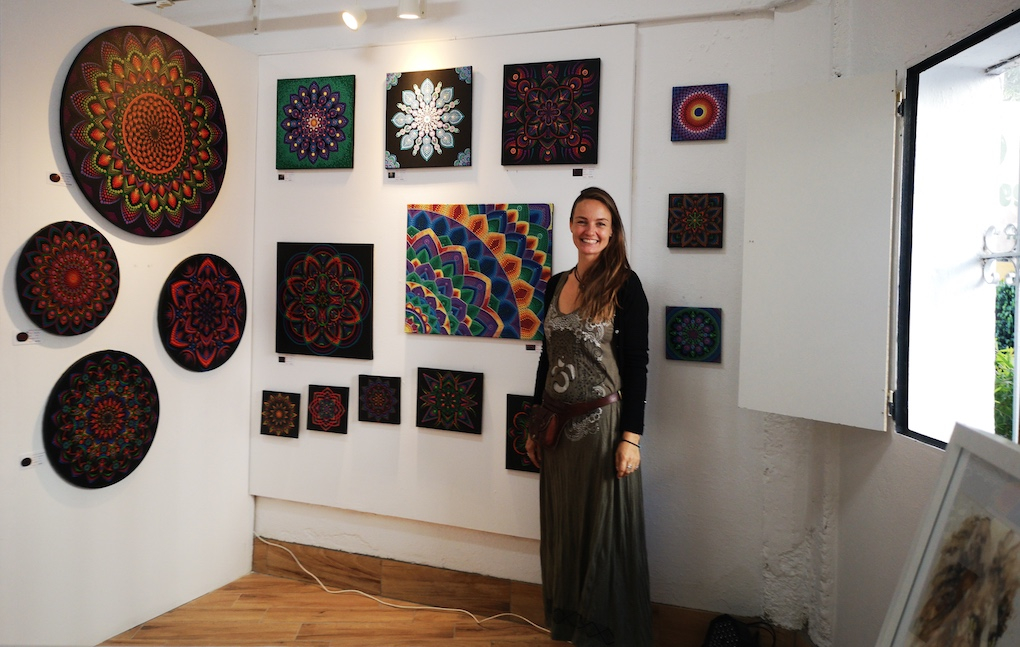 Almost two weeks ago, I was contacted by ArtHouse Benahavís, who would like to see my art. They told me that they have a new-started Art gallery in the beautiful town Benahavís near Marbella in southern Spain.
When the gallery owners came to see my art, their commented my work, in such a positive way.
The owners are an English couple, so sweet and friendly. They have always dreamed of opening an art gallery, which they now have for the 7th week now.
They have art from famous artists, like the legendary UB40 saxophonist Brian Travis and the bass player John Illsley from Dire Straits in their gallery, and I will now be sharing walls with them .
Wow I´m so proud of that <3
They were searching for an artist who makes dot-paintings, the last artist they had in house, did something in the same style. And they have many costumers who likes this painting style, and therefore, they had searched through Google and found me that way. ❤
That is so awesome 😀
They took their time to help me pricing my art, which I have had a lot of trouble with before, since I use many hours on a painting, but have always thought that the price I have to take, was a bit high.
I never thought in my wildest imagination that they priced them as they did, and the way the told me how good they think I am, made me so happy.

"Your dots are perfect round and set very precisely"
Yeepee… My perfectionism has been noticed 😀
I am so proud of their kind words about my art. Could almost not control my feelings, at that moment 😀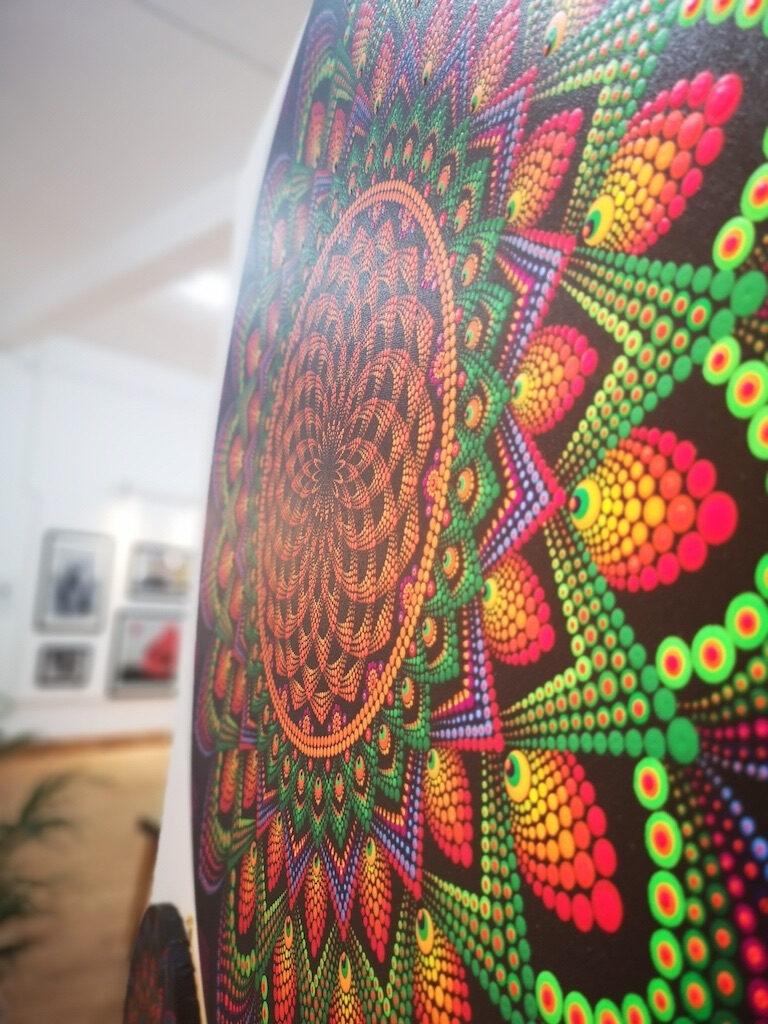 When they left our apartment, I just went in circles around myself. Went into the studio and when I came in and looked at my wall with all my paintings, I just got a huge stomach breathing and started to crying tears of joy and ran to my boyfriend while shouting: I'm just so happy… 🙂

We went to Benahavís the next Monday and saw the gallery, It is so nice and bright, and the actual location is absolutely fantastic. In the middle of a long dining street, full of really great restaurants.
Benahavis is really a little gem on the coast. It is a city in bloom within art and creativity and has an incredible number of visiting tourists everyday.
With quotes and wall decorations, here and there in the city, small cosy streets and the beautiful river Guadalmína right next to this beautiful city.
Benahavís.
It is a fantastic city ❤
Benahavís is known for good food. It has many high-class restaurants and draws visitors by the thousands, who come simply because of the cuisine and the cosiness of the town.
So many people will get to see my paintings ❤
I can't almost not get my arms down because of excitement, joy and happiness.
I have to pinch my arm once in a while, to understand this is not a dream – it is really happening!

The following week I packed 17 paintings, of all sizes together.
Ready for my first Art Exhibition ❤
Together with the gallery owners, we got them up. The owners have made the little signs.
We got installed a black-light lamp, so the owners can show my UV paintings in dark, with black light to the customers also.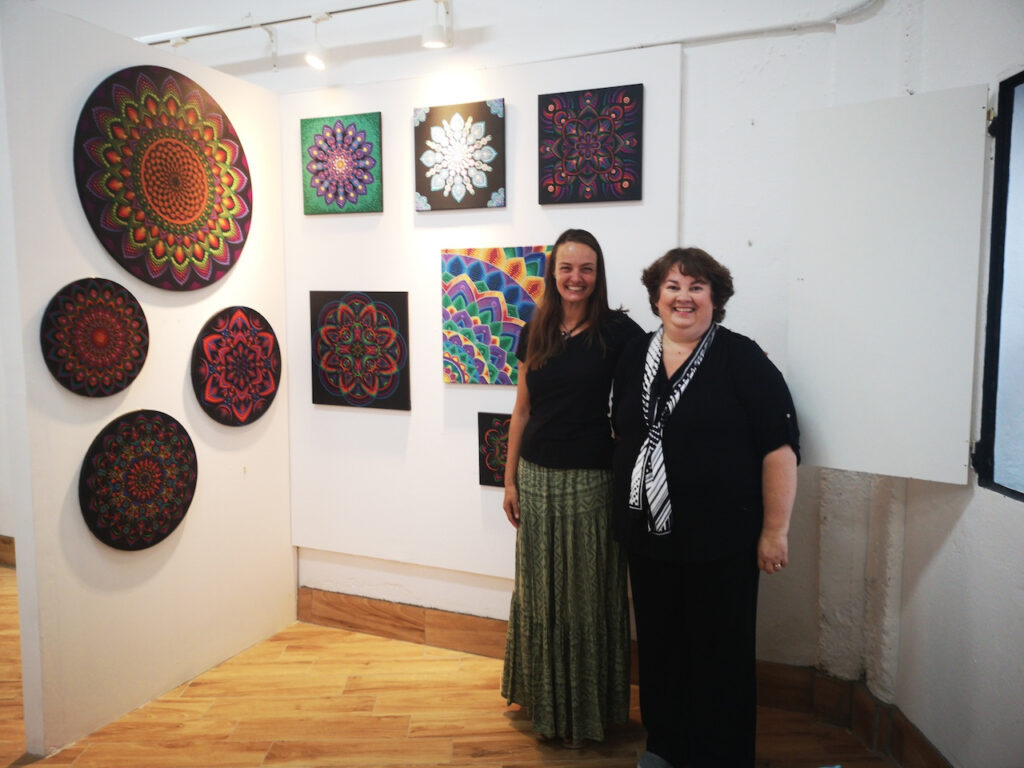 The paintings will hang, for at least 1 month and I can cooperate with the Gallery, until I don't feel like.
So now I have to start painting new ones.
Many new canvases, in all kind of sizes, have been grounded and ready to be dotted a little by little.
Colourful greetings
From
Natasha Borggaard