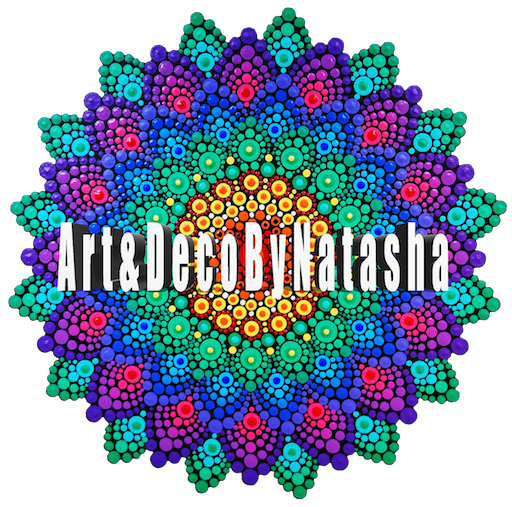 Hello Everyone
Welcome to my blog – and the year 2019.
Happy New Year!!
I hope 2018 was a great year for you!
It really has been a excited 2018 for my Art&Deco project, with many new creative adventures and creations, which I love to do so much.
It's my dream to paint and decorate every day.
And I'm feeling closer, like never before!
This will be my first blog in 2019 – and why not take a look back at 2018.

First of all I would like to give you all a huge THANKS for the support and positive response I have received from people all around the world the last year.

Just as the year ended I reached over 500 pages likes on FaceBook

And around 800 on Instagram

I'm very thankful for that <3
First step in 2018 was the launch of my webpage
This is a completely new world for me, so many new different things to learn – picture editing, finding good print places/print-on-demand and learn how to use their tools.

And then there is this – leaning how to write a blog.

This year I will try to find more time write on it.
I want to blog about the many colourful things happens in my company – about my paintings, decorations and murals.

About Colours, Dotting and inspiration for home decoration and art!
I want to share my
c

o

l

o

u

r

f

u

l

world with you!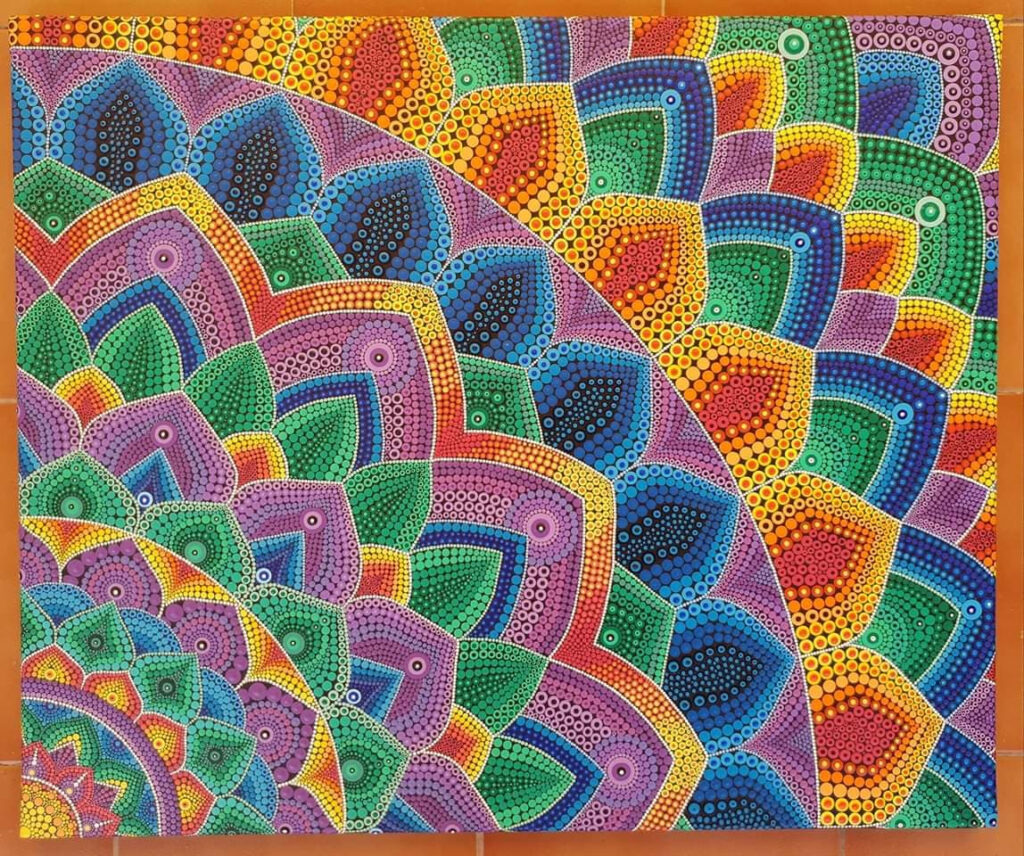 The jungle of print on demand shops
Last year I opened my web shops and it was a big jungle (and still is), to choose the right print companies and what to get printed where.

Because there is many out there, and some of them are good with some products, and not with others.
Do they provide good costumer service, how long delivery time etc.

So many things to be aware of – to make sure people get a good experience when they buy something with my design on.

The first print site i tried was Spreadshirt – but their design options was very narrow, so I had to take the shop down again.
I found The Redbubble Shop
I really enjoying the products and service from Redbubble, which was the first marketplace for print-on-demand shops I settled for.
The prints are beautiful and the products are good quality,
with all the products I have ordered (bags, t-shirt, skirts, scarfs, pillows and notebooks) – there have only been a couple of failure in the prints.

But they have a really nice customer service and every time they have replaced the items right away.

So I am for sure keeping my Redbubble shop
I also have found a place called Zazzle with full print fleece blankets, the print is nice, but I think the price is to high for the lack of thickness in the fleece, and because of that I have not posted it for sale on Facebook.

But I am so happy with it now that I have it – it looks beautiful and fits great on our couch together with my pillows from Redbubble.
The Liveheroes Shop
Then I finally found a company which makes full printed hoodies and t-shirt, and where I can design the product myself.
"Liveheroes"
They unfortunately have a little long production time sometimes..

I waited around 30 days for mine, they said 21 days when i ordered them.

But I was so happy when I received them 😀
At LiveHeroes – what you order is printed and sewed directly to you after your order.

Therefore you can expect a long waiting time, when they have a lot of orders.
But the quality is very good and – the prints is really beautiful!

I'm very happy with my full printed hoodie
Below you can see how my Purple dot-mandala painting looks like on a cotton zip up hoodie from LiveHeroes.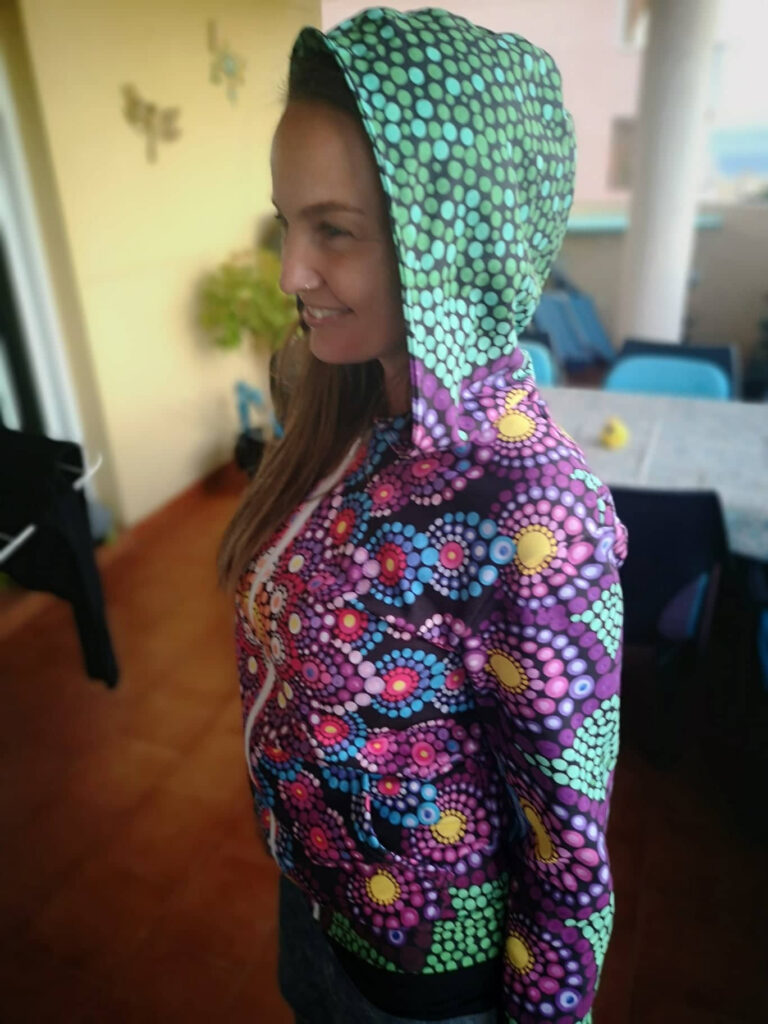 I was in a doubt if I should keep the Liveheroes shop, because I want people to get their products on-time – and I lost a bit of my strength to keep the focus on the webshop.

I have got it back again and I have been writing with them about the things they can do better, especially on the communication level, when they know they cant deliver on time.

I love the idea that nothing is mass-produced – It is much better for the environment and the planet we are all sharing.

And I love the quality..

Therefore!!

I'm ready for 2019

And to make some more designs for the Liveheroes Shop
I will keep on searching for the best solutions
There is many other prints companies.

And this year I will test more products from different places
One of my goals this year, is to find yoga mats, towels, bedding sets, blankets and beach blankets.

I will work hard, and try to buy test from different places to find a good quality for a good price – and with good costumer service.
I got my first wall decoration job in Spain
My company got a recommendation on Facebook from Centro Sanum (thanks Rikke) when a new started kindergarten in Benalmádena, was looking for someone to decorate their walls – and then suddenly I had 3 decoration jobs.
A new Danish kindergarten "MiniBierne"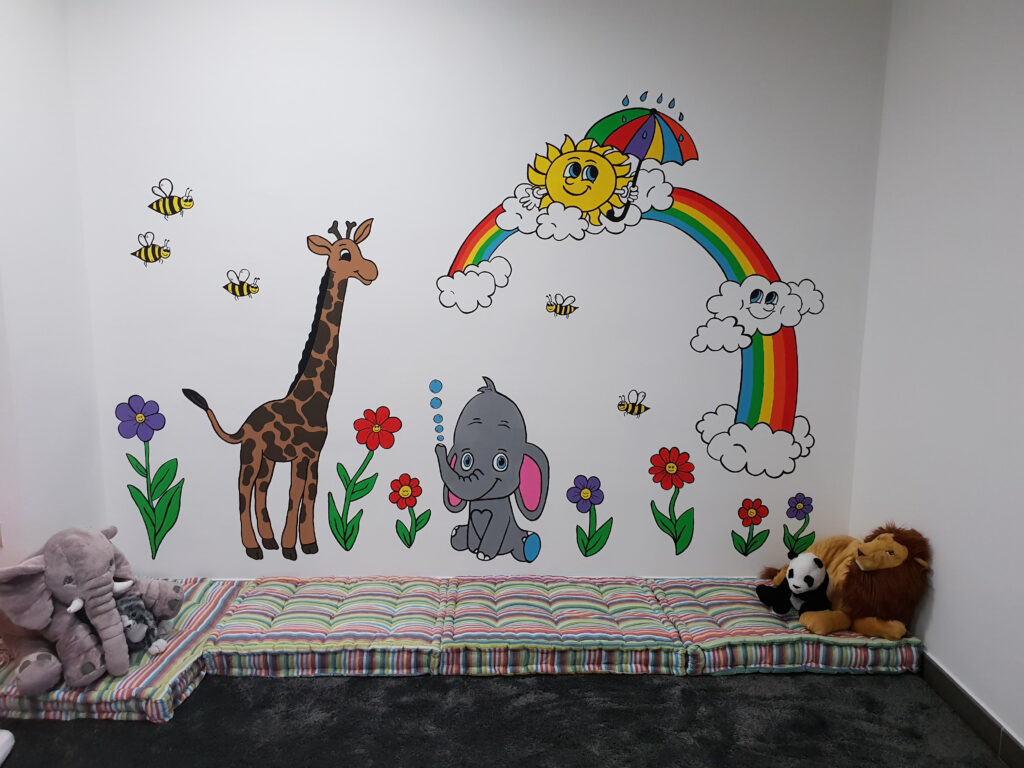 A Scandinavian Bakery "PAN DELUXE"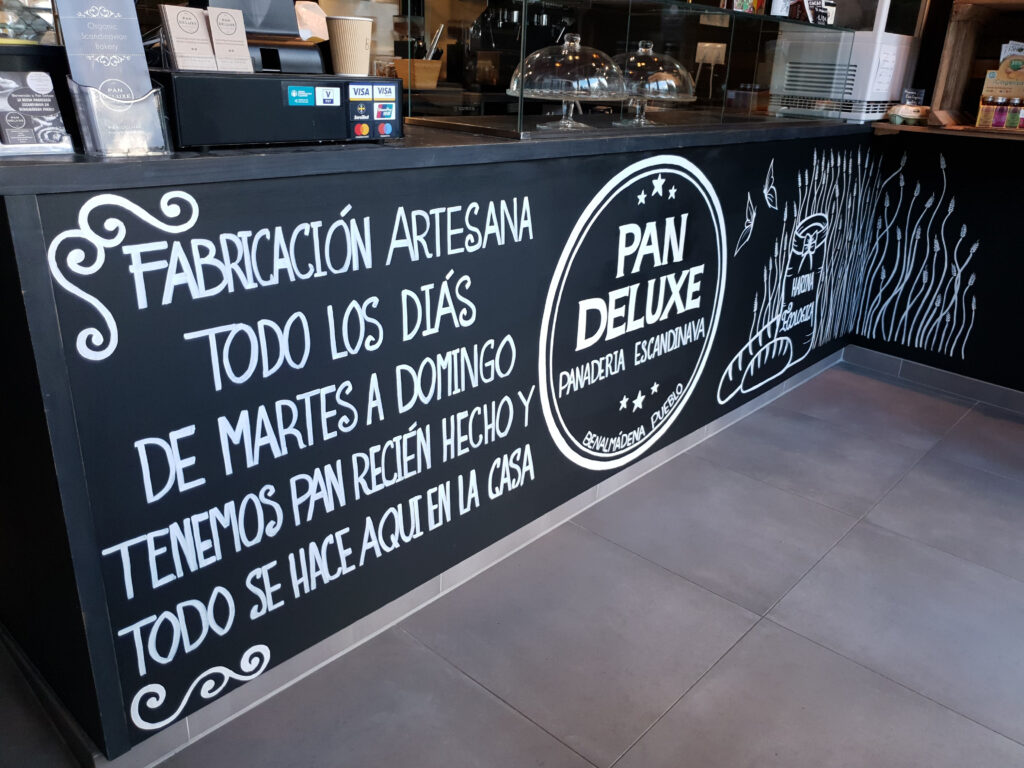 A Nursery room
In a very sweet English family´s house, for their new-born Baby boy to come.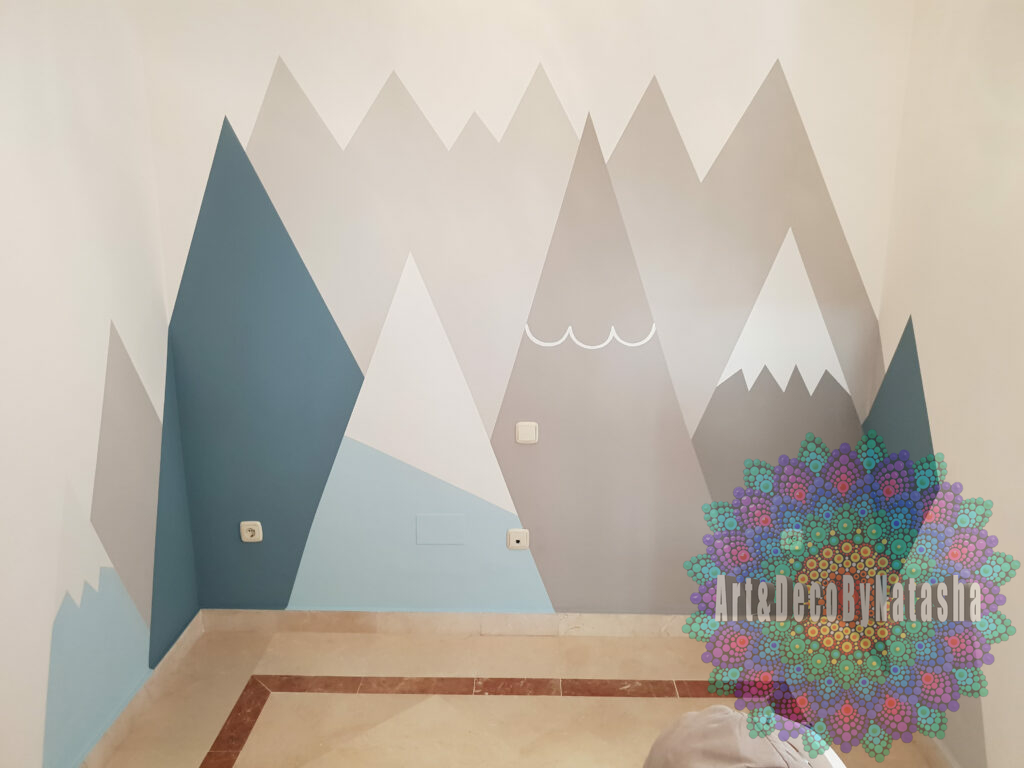 All located here on Costa Del Sol!
What an Amazing journey!
I'm so grateful and feeling so blessed, that I've been noticed by some people.

And I'm so happy that all the costumers are very satisfied
Thank´s a 1000 times to you guys who have recommend me!
It means so much to me <3

So much fun the last few months.
Being able to do what I love almost every day.

It really brings so much happiness into my life.
My creative mind is growing, painting is now my daily meditation, it's here I find inner peace – and where I allow my mind to be set totally free.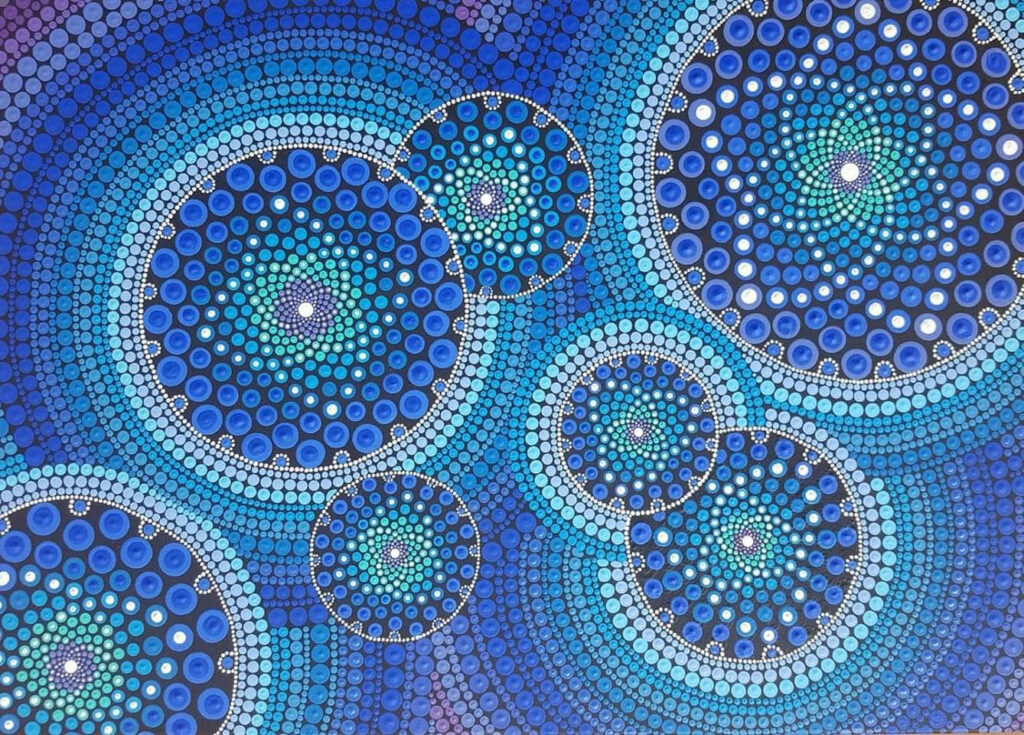 The Uv journey started for me
The last couple of months my journey and passion with and for uv dot art has exploded.
Rob Macks is a psychedelic artist, with more than 30 years of experience with Uv dot art.
I was so lucky that he shared some of his deepest secrets to me, from an artist to an artist.

I'm so grateful for that. He is my biggest inspiration in psychedelic dot art.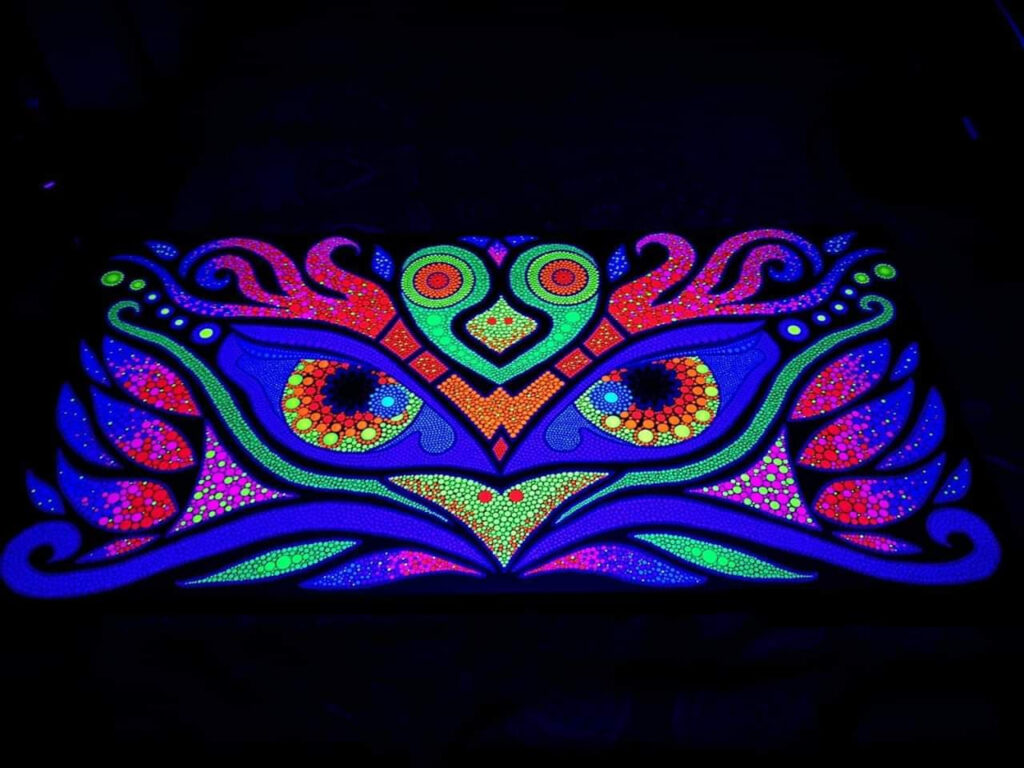 Hopefully in 2019 I can make an exhibition with my Art somewhere !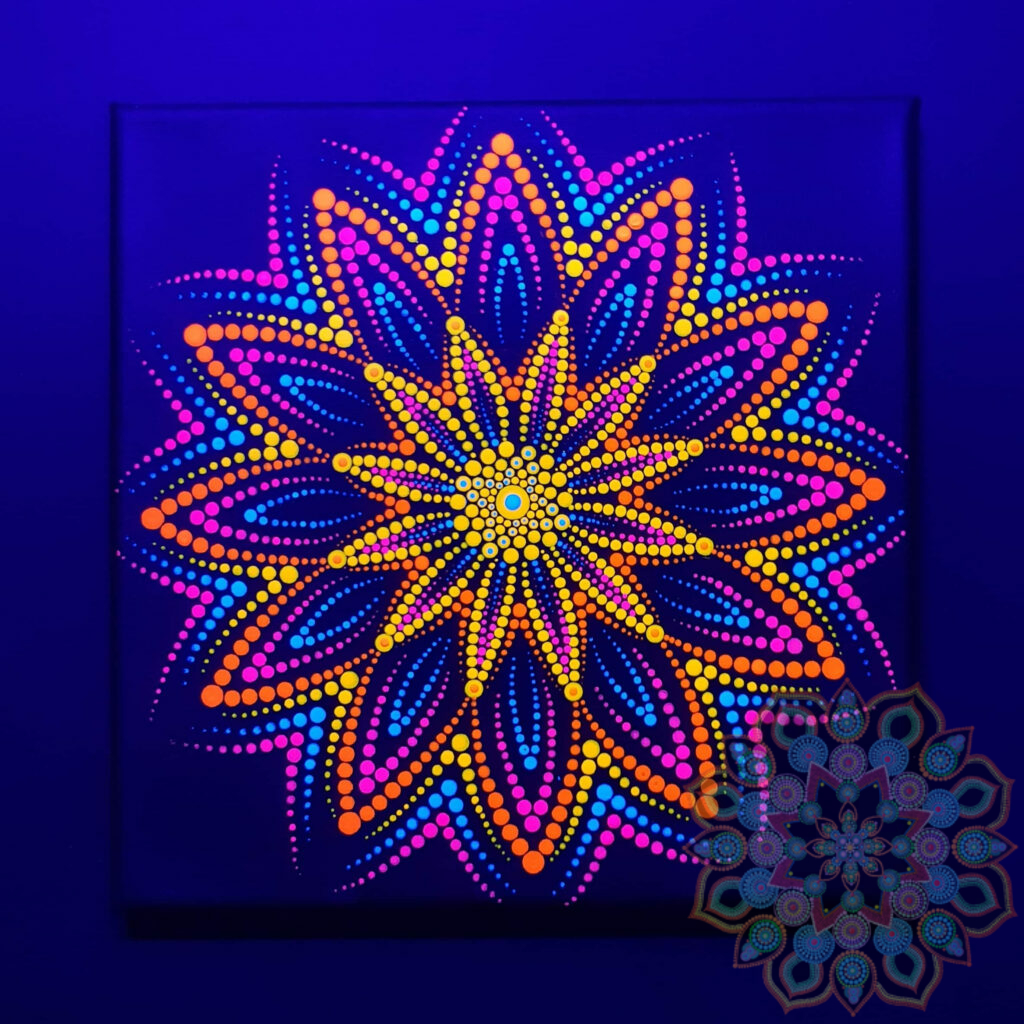 I want to make more psychedelic art!
I want to make more visual art for the eyes!
It really touch my soul to create something beautiful!
I finally found my Logo
One of my own favourite dot-art paintings "A sunshine in a flower" which I have modified in Photoshop and added the text.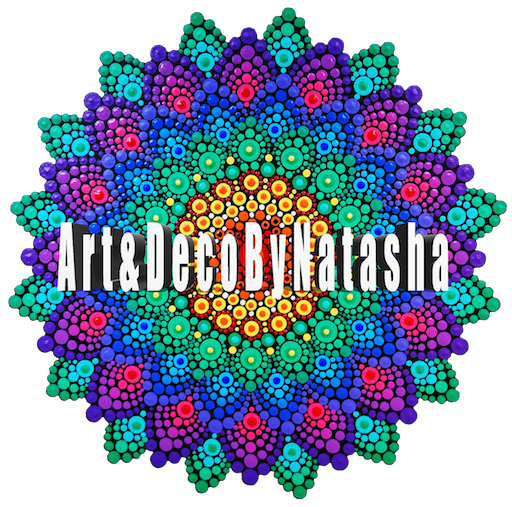 (I absolutely love this name, which my boyfriend came up with)
It has been a long ride so far, so many new things to learn –
and a lot of it in another languages.
It's not easy, but it have been completely worth it. I never expected to have my own creative company in South Spain, Costa Del Sol. Such an experience to be in another country. Learning so much about myself on this journey.
2019 is here– let´s make it awesome
I'm currently working on more advertising – flyers for my wall decoration´s to share around to the local restaurants, shop's and etc. for me to offer Costume made decorations for everyone who would like to put their personal touch on their businesses or private wall.
No wall is to small – for a Art&Deco decoration 😉
Im sure many new creative adventures will come in the future, or else Ill make them my self.
It's really is my dream and I'm starting to living that dream!
I'm getting a bit better to the Spanish.
But this year I will have much more practice, it is such a beautiful language, and the people down here are very nice.
Thank you for your all your support in 2018
I can' wait for all the new creative adventures and creations in 2019!
I wish you and your family
A Happy New Year
Best Regards
Natasha