Art&Deco By Natasha
Unique and Original
Dot-Paintings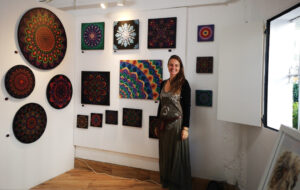 High quality Art&Deco By Natasha Designed
Accessories
Colourful Clothing
Home & Living
All designs originate from hand-painted Art&Deco by Natasha Original Dot-Paintings
Purchase 2 items or more and get 20% Discount
Unique & Colourful
Beach Towels
Highly absorbent & quick drying microfiber and cotton.
Available in 5 different sizes
Fire rated, split fiber fabric
50% poly 50% cotton binding
Quick drying and highly absorbent
Handmade to order in London
4 Pack Re-Usable Face Mask
4 different designs
Machine washable at 60°
Breathable fabric
Printed & Handmade in UK
Four Pack No. 1
Four Pack No. 2
Neck Gaiters & Headband
Made from a fast-drying, wind-resistant Soft Fashion Jersey fabric designed to retain heat, perfect for cycling, motorbiking, skiing and other outdoor activities.
Whether you want to put a unique twist on your everyday outfits or expand your sports gear clothing range, the custom neck tube is a multi functional, stylish accessory to have in your fashion repertoire.
Non-Mass-Produced Unique Products
Our beloved artisan partners in London will start creating your item(s) once you have placed the order.
We hold no stock, nor do we produce products beyond needs, meaning that nothing will be burned to keep our brand value.
All fabric remnants are offered free to crafters and DIY-ers instead of going to waste.
This is a great solution to recycle and avoid the mass production industry we have today.

Also many products will NOT be sold unlimited, simply to keep the products unique.
Sustainable Production
Our partners have a water-free manufacturing and printing process.
Only Eco-friendly inks are used..
They source from the EU where possible and use only FSC certified materials.
ECO Friendly Yoga Mats, Hand sewed Espadrilles and much more to come soon.
All Printed Products Is Hand Made To Order In UK
FREE TRACEABLE EXPRESS SHIPPING TO ALL EUROPEAN COUNTRIES
All Products
CERTIFICATE OF AUTHENTICITY
When you buy a dot-painting you will receive a signed certificate of authenticity document, proving that the artwork is a one-of-a-kind original Art&Deco By Natasha piece.
The document will show a picture of the painting, the title, dimensions and a description of the artwork.
SECURE WORLDWIDE SHIPMENTS
Paintings are packed & shipped off securely with track & trace from Spain.
If there should be any print-problems with any product, we will replace it and make sure the faulty (but still usable) item goes to charity.